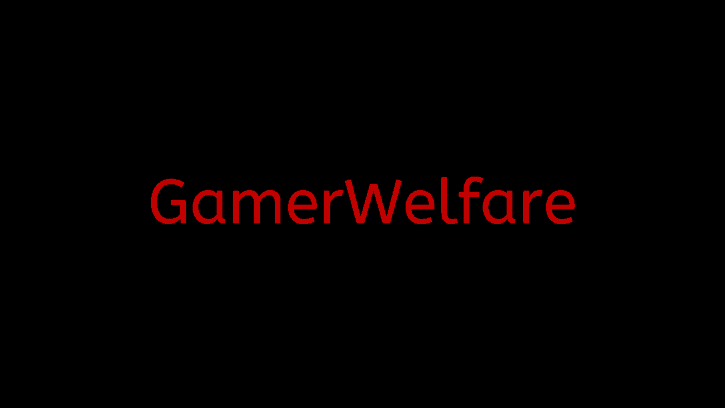 Hi guys! Today I will teach you how to use a mouse and keyboard to play games on Cemu. It probably won't work on all games, but one game that it will surely work on is BotW. This process is tested and if you follow every step to the letter, I guarantee you that it will work out. This is the 200th article on this site so I decided to make this article since the article with the old method is the most popular article on the website.
If for some reason you can't make it work with this method no matter what you try, then you can always check the old method:
https://gamerwelfare.com/2020/01/30/the-definitive-guide-cemu-with-mouse-and-keyboard/
Before I start, I would like to thank memethyl (the person who made Mouse2Joystick and the original setup guide on github) for the tips and fixes he provided.
What you will need:
Besides Cemu, you will need to download two files. The websites are safe and the files don't contain any viruses.
Here are the links:
https://github.com/memethyl/Mouse2Joystick/wiki/Cemu-setup-guide
https://vigem.org/projects/ViGEm/How-to-Install/
https://github.com/ViGEm/ViGEmBus/releases
https://github.com/memethyl/Mouse2Joystick/releases
The first link is a short description of the things I am about to show you. I followed that guide to setup my Cemu but since it didn't mention key bindings it took some time to make everything work so I made this guide to make the setup as detailed and easy as possible. I recommend you read that guide one time because it contains some important warnings that I don't think are necessary to repeat here.
The first thing you need to install is ViGEmBus.
The second link has information on ViGemBus and ways to fix various problems so I recommend reading it if any problem arises.
The third link has the ViGEmBus installer.
Download ViGEmBus_1.18.367_x64_x86.exe I show in the image below and install ViGEmBus, you don't need to change anything in the installation options, just click Next and Install. In the future, there may be newer versions of the program, only install the version that says Latest on the top, NOT PRE-RELEASE.
To check if everything is installed correctly search Device Manager on the Windows search bar and then open it. On the top click on View->Devices by Connection.
Look for entries with names like Virtual Gamepad Emulation Bus or Nefarius Virtual Gamepad Emulation Bus.
If more than one entry appears you might have multiple versions of ViGEmBus installed which may cause conflicts. Follow the full clean section, it's part of the second link I showed you.
If there is only one entry then you can continue.
Right-Click on Nefarius Virtual Gamepad Emulation Bus then click on Properties. Click on the Driver tab and you should see something like the image below.
If you see something like this then ViGEmBus is installed correctly.
Next, you have to go to the fourth link.
The fourth link has the Mouse2Joystick.zip
You have to download this zip and extract it. You don't have to download the version that is shown in the image, as time passes new versions will come out so download the latest version.
After you downloaded and extracted the zip go to the extracted folder and open Mouse2Joystick.exe AS ADMIN, always open it as administrator (it might work correctly even if you run it without administrator privileges but depending on the version of windows 10 or 11 there might be some bugs and running it as admin may fix them).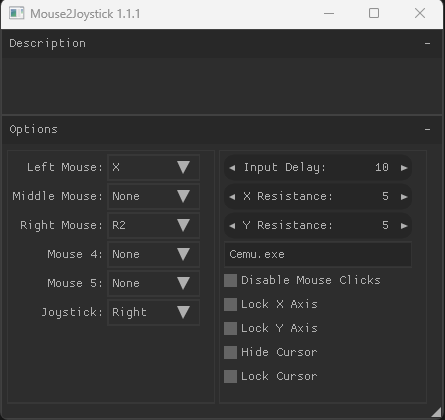 Copy my settings as you them in the image.
Next open Cemu.
Click on Options->Input settings
Click on the – Icon till there are no controllers.
In the Emulated controller option choose Wii U Gamepad.
Before continuing make sure you have opened Mouse2Joystick.exe AS ADMIN.
Now click on the + Icon which is next to the – Icon.
Copy my settings as you see them. If you don't see a Controller 1 option it means that you haven't opened Mouse2Joystick, so make sure you open it AS ADMIN.
After you copy my settings click Add, then click the + Icon again.
Now copy the settings of the image below.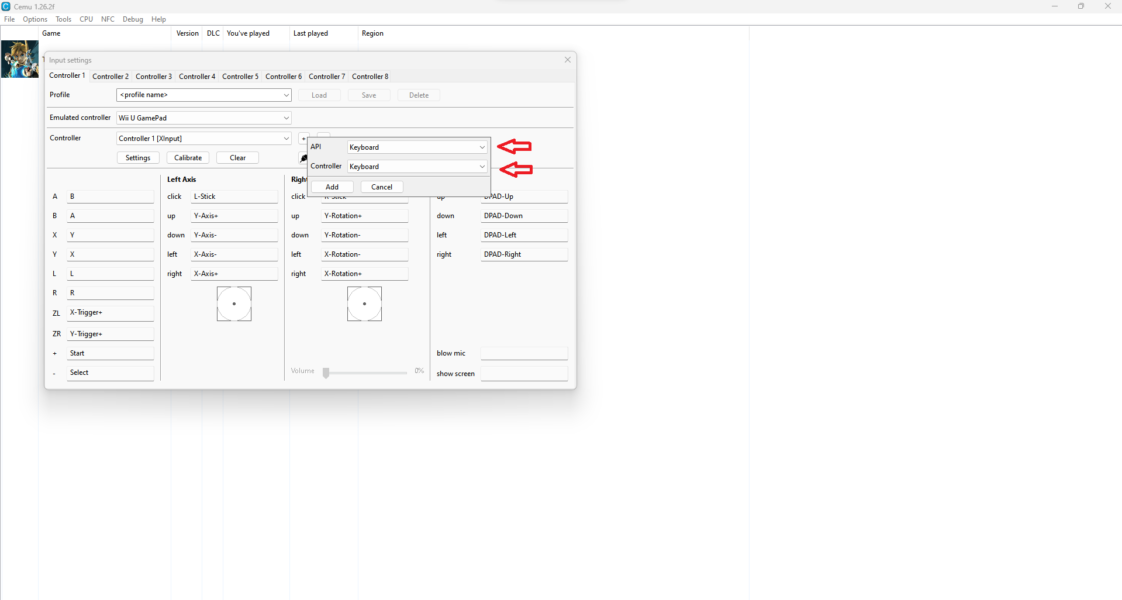 After you copy the settings click Add.
Below is the window you will see after you click Add.
As you can see all the key bindings are greyed out. To change the key bindings click on each greyed box and press the key you want to assign it to. Before you click anything check the image below and copy my Key Bindings since they work perfectly and it took me some time to set it up.
If you change the controller to Controller 1[XInput] by clicking Keyboard[Keyboard] and then choosing Controller 1[XInput] you will see the image below.
Don't mess with the settings in Controller 1[XInput], if you do, you have to press – Icon again till all the controllers are clear and then create them again with the + Icon. Y and ZR as you can see aren't greyed in Controller 1[XInput] that's because we have already set them in Mouse2Joystick.exe
You MUST UNCHECK DISABLE MOUSE CLICKS because without it being enabled, Left-Click won't work correctly. Also, I recommend unchecking Hide Cursor and Lock Cursor when you play games. When you uncheck something it enables it.
Now we are basically done. Two more recommendations, to change the sensitivity edit X Resistance and Y Resistance values on the Mouse2Joystick window. Also if you play BotW change the Camera sensitivity in-game to Very Fast.
Disable Mouse Clicks: Blocks all mouse clicks in Cemu's window. Use this to keep the mouse from "touching" the virtual GamePad.
Hide Mouse: Hides the cursor while Cemu is the foreground window.
Lock Mouse: Forces the cursor to stay in the middle of the screen while Cemu is the foreground window.
Finally, you MUST open Mouse2Joystick.exe AS Admin AFTER you have already opened the game because with Disable Mouse Clicks being active you won't be able to interact with Cemu at all.
Some games might require gyroscope/motion controls. For those games watch this video:
https://www.youtube.com/watch?v=0pp1B8S7yxI
I also recommend you to watch Cemu Complete Setup Guide:
https://www.youtube.com/watch?v=Bw7qa94P0ls
---
This was the guide. Thanks for reading it, and I hope that all went well without problems. If you have faced any problems or have any questions feel free to comment below and ask.
You can support us and get notified when we post a new article by following us on Twitter, liking our Facebook Page and sharing our articles.